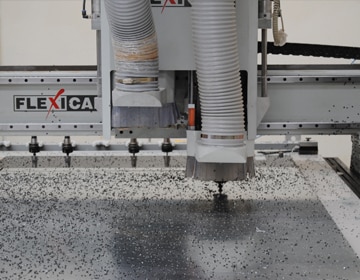 At Scaf Plastic Fabrication, we can offer you a precise CNC router cutting service with our high-quality CNC machine in Melbourne. We use the latest machine and technology, both in soft and hardware form, to deliver a fine and accurate cut every time.
CNC routing is a major part of our manufacturing so only the best and latest routing technology is acceptable. Using DXF files of parts drawn by the customer or by us we can insure a perfect product. This highly precise method of CNC cutting, Melbourne, allows complex 2D and 3D parts to be created from the materials.
With a large table of 2 x 4 metres we are able to machine using any sheet size and almost any materials include acrylic, perspex, engineering plastics, aluminium and many more. This also allows effective use of materials with minimum cut-offs. Using a vacuumed table we can ensure no movement from the material so that measurements are accurate and the cutting depth is correct and not varied as some materials can bend. With our large CNC machining services, we are able to work with the largest sheets on the market with ease.
Our CNC Machining Services In Melbourne Can Handle Just About Any Material Including:
Clear acrylic (plexiglas, perspex)
Coloured acrylic sheets
Acrylic mirror sheets
Polycarbonate sheets
HDPE sheets
PETG sheets
PVC sheets
Foamed PVC
Polypropylene sheets
You can rest assured that high quality is all you will receive.
We offer advanced Laser Cutting Services and always ready to assist you with your CNC cutting, fabrication, and manufacturing projects using the latest techniques and equipment for CNC routing in Melbourne.
Production runs of low or high volume are carried out with 'attention to detail' and your project files are stored on our database for simplified and convenient reordering.
CNC Cutting Melbourne
We are your go-to team for your composite CNC routing of aluminium, CNC routing acrylic or any other materials you need. Our team are experts in using CNC machines in Melbourne. They'll meet your needs and are happy to answer any questions you may have about CNC machining services.